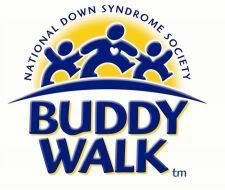 Last year we did participate in the Buddy Walk but that was pretty much the extent of it..This year I am trying to get more invloved..So what is a buddy walk you ask???
The goal of the Buddy Walk is to promote understanding and acceptance of people with down syndrome. In addition, we raise funds to help support families of individuals with down syndrome., local support groups, and hep research efforts of the National Down Syndrome.
The Buddy Walk is less then one-mile walk in which anyone can participate. The walk was started by the National Down Syndrome Society in New York City and has grown from 17 walks throughout the country to more than 270 walks in the United States!!! Last year more than 235,000 people nationwide supported the Buddy Walk.
Well Avery's EI asked if we would walk with her company this year instead of walking by ourselves so that is what we are going to do..but i am still trying to raise some money..so anyone interested in donating to Averys cause please let me know!! Your tax-deductible donation will help all people with Down Syndrome step towards a bright tomorrow:) If Avery raises $250 her name will be on the the back of the buddy walk t-shirts:)) so thats my goal!!! For any Buddy Walk Pledges make checks payable to Family Connection of South Carolina. I need them by next friday..september 19th..Our Buddy Walk is October 19th!!!