So what is a mama and me journal??? It is a journal where just me and Destiny write back and forth with each other and one for Brielle and me to write back and forth to each other. I found the idea on pinterest and here is the original
link
. Isnt it such a great idea???!!!! I have had it pinned for awhile now but finally made myself just do it!!! So this past weekend I finally did it!!! It was super simple and only took like five minutes to make them..I found some scrapbook paper that I thought each girl would like and then glued it on to the cover of a regular notebook and then printed off the top part mama & me from the website where i found the idea..she has it where u can download it and can print it off..and then i just glued it down...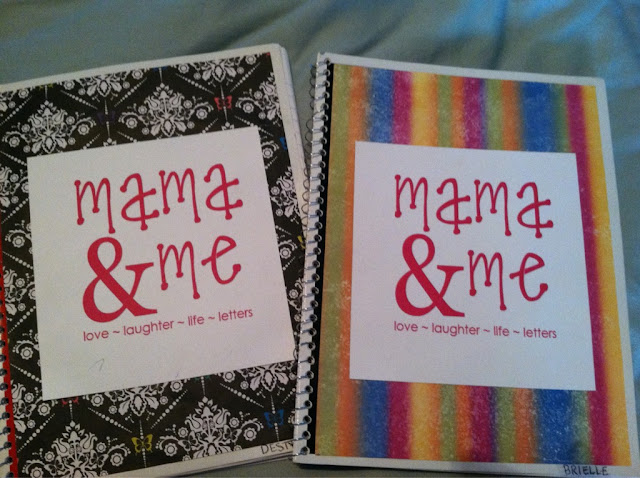 The first page I copied from her website..thought it was a great starter page..but here is the first page if u want to see it!!
When they woke up it was on there bed and they were soooooo excited..that might be an understatement...lol!! They wrote back to me write away and it was beside my bed that night..and so far we have been doing it back and forth everyday..they are so happy to get it back and see what I wrote them..so far they have wrote me some jokes or told me a story.or asked me questions that they wanted answered and in last nights letter Destiny thought it would be a great idea to end each letter with a bible verse and she says its ok if we need to look it up in the bible too..:) That is an awesome idea Destiny...So this little idea has turned into being a great way to strenghten our bond one on one with my girls which can be hard sometimes when u have five girls..a book of memories to treasure for a liftetime...but it also lets them work on writing and penmenship...and now it gets them in the bible more!!! We all coudnt be happier..anyways I just wanted to share it with all of you and I would def recommend you doing it with your child..girl or boy...